Paper braces are made of several layers of paper and are hard pressed, these bars to form a V, L, U shape or a 90 degree angle. Paper splints are widely used to brace and protect the edges of products and packages. Or reinforce the stiffness of the corners of the carton during the transportation and storage of goods. The paper splint is made of 90% paper, which is designed to be extremely square and very neat.
Besides, because the production is almost entirely made of paper, the weight of the paper splint is quite compact, because of this advantage, businesses have saved themselves a lot of costs, as well as controlling accidents in the field. moving process. And above all, the paper splint is an extremely environmentally friendly product because it can be recycled for reuse as well as contributing to environmental protection, saving raw materials and natural resources. And if you are using paper pallets, the paper brace is a great choice because of the perfect combination of these two products. It helps businesses minimize unnecessary risks in the process of arranging, transporting and storing goods, especially those with high care.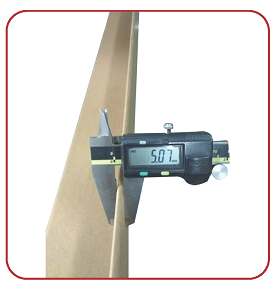 Paper braces always keep goods safe to avoid damage during transportation.
The importance of splints in the commodity industry
Paper corner brace, if we know how to use and combine it, it is one of the indispensable materials, playing an extremely important role in supporting the safe movement of products. The V-angle brace can pack large tonnage packages: light but very useful for packing goods because the product's bearing capacity is up to 2000kg. Moreover, any arising situations such as damaged, broken, or moldy goods, etc. can be prevented in the most effective and optimal way. Save time during loading and unloading. There are always flexible options for a secure and convenient way of packaging. And you also always have many options to suit the flexible needs of your business. In addition, the most important thing that anyone cares about is to significantly reduce production costs, as well as protect goods from being bumped. In particular, the paper splint is also very diverse in design and size for you to choose, so it supports maximum safety for products that need lightness.
Through these advantages as well as expressing such special importance, we can affirm that paper products in general and paper braces in particular will be the first priority support tools in this field. The manufacturing, packaging and moving industry is present and it will continue to grow in the coming future. It is a certainty that no one can deny.
VIETNAM STARS INDUSTRIAL CO., LTD
Boasting many years of experience in manufacturing Paper Bars – Corner Bars, we always meet the needs of our customers comprehensively. The product can be designed using the following types of structures: The length and edge dimensions of the paper brace are manufactured according to the customer's requirements. Edges range in width from 30mm to 90mm and edge thickness from 2mm to 8mm.
With a long-time operation in the production of paper-related publications to serve the needs of the packaging industry, Sao Do is constantly rising day by day and has built itself a prestigious brand name. and firmly in the Vietnamese market. In addition, Sao Do always develops comprehensively to reach out to the world and deserves to be with other countries to strengthen and affirm the Vietnamese brand. If you are in need of buying a V-shaped paper brace, please contact us immediately, with experience in manufacturing and investing in modern and advanced technology equipment, ensuring you will be extremely satisfied with the product. Quality and price will be very favorable.
For more information about the price list of paper braces, please contact:
VIETNAM STARS INDUSTRIAL CO., LTD
Address: D2 Street – Area D – Pho Noi A Industrial Park – Lac Hong Commune – Van Lam District – Hung Yen
Phone: 093 6464 222
Email: info@redstarvn.com
Website: redstarvn.com